The Ways Wooden Garden Gates Can Complement Your Garden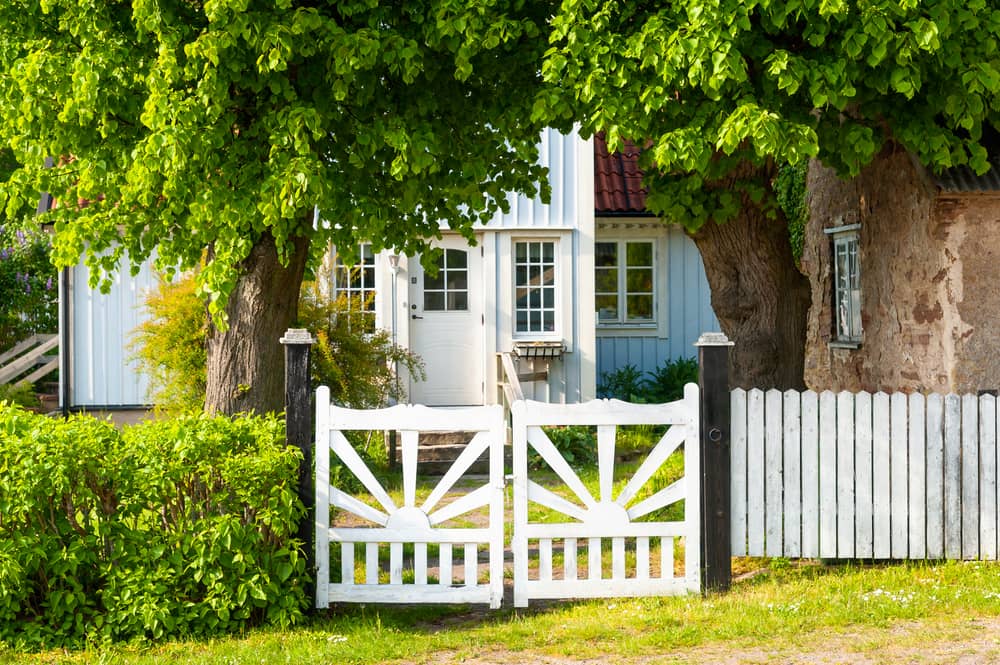 Whether you need wooden garden gates, side gates, or front garden gates, the design of the product has the potential to complement the natural beauty of your garden. To make sure you can make an informed decision on what aesthetic is right for you, let's take a look at a few possibilities.
Every timber has a different vibe
Timber is often separated into two different varieties: hardwoods and softwoods. Here at Village Gates, we use both hardwoods and softwoods when crafting our wooden garden gates, side gates, and driveway gates.
Softwoods come from evergreen trees. These are the trees that stay green all year round, adorned with needles and cones. Classic softwoods include Pin, Fir, Spruce, Cedar, and Cypress. Of these, we love a Scandinavian Redwood Gate. This is a popular softwood timber that has tight knots, stains well, and will keep its look for many years, but it does need regular maintenance.
Hardwoods come from broad-leaved trees, dropping their leaves during autumn and flowering again in spring. Examples of hardwoods are Oak, Maple, Mahogany, Birch, Beech, Ash, Teak, and Walnut. Our hardwood wooden garden gates are more durable than the softwoods, made from Idigbo or Iroko hardwoods.
When choosing which type of timber you want for your garden gates made to measure, it is not just about durability, but the aesthetics that they provide and how well the timber will compliment your garden.
All our garden gates are made to measure, and so we can also finish it in the stain or colour of your choice. This again allows you to personalise your wooden garden gates and side gates so that they can perfectly complement your garden.
However, the thought of having wooden garden gates and side gates might have you worried about whether these man-made structures might ruin the natural and organic aesthetics of your garden. But here at Village Gates, we want to reassure you that there are many ways that you can ensure your gates complement your garden as a whole.
Therefore, here are a few ideas that can help you make sure your gate compliments your garden.
Foliage can soften the impact of a tall gate and blend it in with your garden
If you are worried about the safety and security of your property, then you might be considering tall closed-panel garden gates. However, though sleek garden gates are made to measure, these gates can be dramatic and imposing.
However, you can soften the impact of sleek slats with a boost of leafy green foliage along the top. Choose a stunning climbing plant to enhance your garden and the look of your wooden garden gates at the same time.
Classic country look
Brighten your garden with a classic country look of a fresh, white gate and traditional stone posts. The pale tranquillity perfectly juxtaposes against rustic organic surroundings, whilst still maintaining a chic vintage charm.
Romantic aesthetic
Add a touch of romance to your made-to-measure garden gates with a floral arch. This is another way to beautifully and seamlessly blend your wooden garden gates and side gates with your garden.
Train a canopy of blooms around an archway. We recommend choosing a scented flower such as roses to make it even more romantic. Go for a bright red or pastel pink to compliment the stark white of the gate.
Contemporary style
However, you don't always have to be subtle. Making a big impact with your gate can beautifully complement your garden too. Large garden gates painted in a dark hue, especially matt black, can look smart and sleek.
The dark colours also allow the colours of your garden to sing – giving them a neutral background to really bounce off with vibrancy.
Elevate your property's curb appeal with mad- to-measure garden gates from Village Gates
All our gates are designed, crafted, and installed by our family-run team. This means you can trust us to take your gates from the drawing board to installation, with no third parties and no chain of production.
Our expert team has over 25 years of experience in the industry. No matter how obscure your idea is, we can craft it to the highest quality. For made-to-measure garden gates across Warrington, Bolton, Birchwood, Rochdale, Wigan, St. Helens and Risley, get in touch with Village Gates today.