How Wooden Driveway Gates Keep Your Property Secure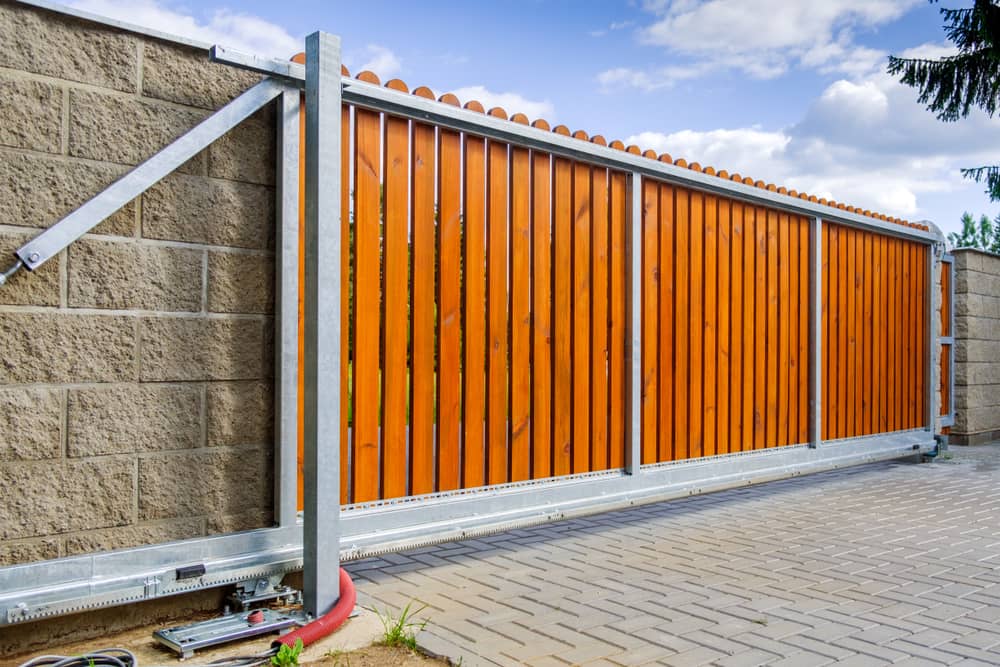 Whilst it can be uncomfortable and downright scary to think about the potential for a burglary on your property, it is a crucial aspect of owning a house to make sure that your home is secure. Therefore, these anti-burglary tips from our security gate experts can help you to understand what fencing solution offers the best protection for your property.
Top tips for keeping your property secure
According to our local police, the Cheshire Constabulary, here are the top 9 things you can do to keep your property secure, ensuring you adhere to domestic security requirements or installing extra security measures.
– Make sure there is nowhere for a burglar to hide
– Install a gravel driveway or path
– Security lights
– Intruder alarms
– Keep your shed locked
– Never leave tools lying around
– Keep windows and doors locked during summer
– Have a secure gate that is locked at all times
– Use high boundaries, spiky defensive planting, and add a trellis to your gate and fence
How do driveway gates help your home security?
Whether they are wooden driveway gates, security gates, courtyard gates with gate automation, or metal gates, made-to-measure driveway gates are exceptional additional security devices for your home security. This is because they introduce a lockable barrier and a visual deterrent to the front of your property.
If you opt for a wooden driveway gate, the closed panelling can also add some additional privacy and personal security, as it will be impossible to see through into the driveway. They also create a solid obstacle that is near impossible to scale, taking longer for a potential burglar to get in and out of your property.
Metal security gates and metal security fencing, on the other hand, can also be a great psychological deterrent to potential burglars. They can be fitted with a spiked metal railing, or anti-climb railing systems – at the forefront of metal security – that can prevent criminals from getting a hand or a foothold.
Metal or timber driveway gates can also help you to secure your car overnight. If you don't have an enclosed garage, your car might be more at risk of theft. However, a driveway gate can ensure that your car cannot be driven off your property.
Metal or Wooden Driveway Gates: Which are better?
Though both kinds of gates can amp up your home security, timber driveway gates are our top pick for keeping your home secure. This is because a wooden driveway gate is made from panels in lots of sizes, which are put together with quality workmanship to create an impenetrable and solid barrier. This means that there is no way that a potential burglar can get a hand or foothold, as there are no gaps for anyone to get a sturdy grip.
Here at Village Gates, we also make our wooden driveway gates to the exact size and specification of your project. This ensures that there are no gaps on either side of the installed gate.
How can Village Gates help to secure your property?
We have been creating quality bespoke gates for over 25 years, so no matter how obscure the order, we know how to make your gates with quality workmanship. With an extensive range of products, including high-quality wood such as Scandinavian Redwood, decorative wood, a combination of wood, and finish, our wooden driveway gates can keep you safe without compromising on style!
All our wooden driveway gate installations are managed by our in-house installers, meaning that your bespoke driveway gate is managed from start to finish by our expert team. That's right, there are no third parties and no chain of production, just a reliable and friendly family-run company.
For more advice or information on how our wooden driveway gates can enhance home security, just get in touch.
Here at Village Gates, we are always happy and on hand to give you advice and information about the gate options that we have available. And if none tickle your fancy, we will make it to measure bespoke to your exact specifications.
So, to get your competitive quote for wooden driveway gates across Warrington, Bolton, Birchwood, Rochdale, Wigan, St. Helens, Risley, and the surrounding areas, get in touch with the Village Gates family today.